Aims
The 2022 IEEE International Conference on Financial Innovation, Financial Technology and Information Technology (FFIT 2022), hosted by Shenzhen University of Technology and organized by the Financial Innovation and Fintech Research Center of Shenzhen University of Technology, will be held on October 28-30, 2022 in Shenzhen.
FFIT 2022 is to bring together innovative academics and industrial experts in the field of Financial Innovation, Technology and Information Technology to a common forum. We will discuss and study about Economic statistics under big data, financial risk control, Economic Modeling and Software Engineering, Accounting and Financial Information Systems, Innovative Supply Chain Financial Services and other fields. FFIT 2022 also aims to provide a platform for experts, scholars, engineers, technicians and technical R & D personnel to share scientific research achievements and cutting-edge technologies, understand academic development trends, expand research ideas, strengthen academic research and discussion, and promote the industrialization cooperation of academic achievements. The conference sincerely invites experts, scholars, business people and other relevant personnel from universities, scientific research institutions at home and abroad to attend and exchange! The conference will be held every year to make it an ideal platform for people to share views and experiences in financial innovation and economic development and related areas.
We sincerely welcome our colleagues worldwide to join us for this conference. We look forward to seeing you in Shenzhen for this exciting event!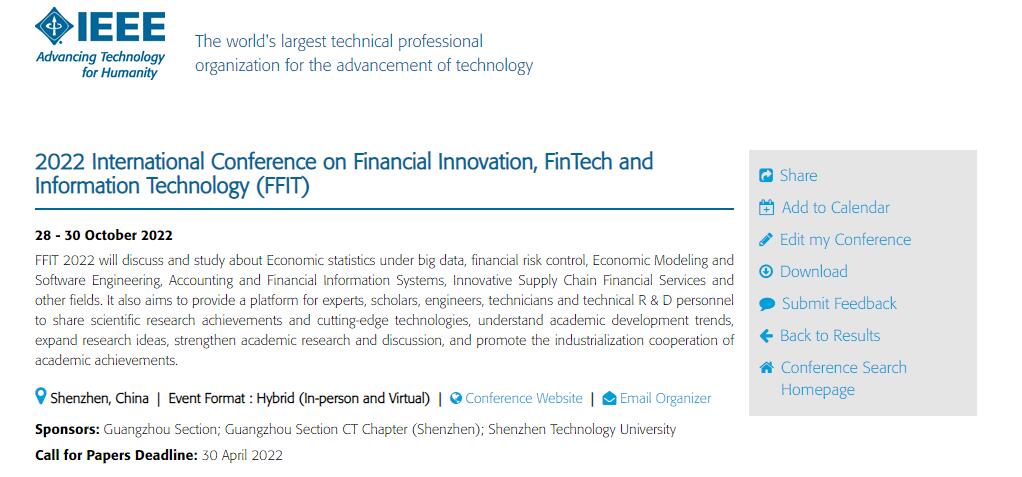 FFIT 2022 has been added IEEE conference list.
https://conferences.ieee.org/conferences_events/conferences/conferencedetails/56433

Full Paper Submission Date: May 31, 2022

Notification of Acceptance Date: June 15, 2022

Registration Deadline: July 06, 2022

Final Paper Submission Date: July 08, 2022

Conference Dates: October 28-30, 2022
Submit to Conference Proceedings (EI)
*All papers, both invited and contributed, will be reviewed by two or three experts from the committees. After a careful reviewing process, all accepted papers of FFIT 2022 will be published and submitted for inclusion into IEEE Xplore subject to meeting IEEE Xplore's scope and quality requirements, and also submitted to EI Compendex and Scopus for indexing. All conference proceedings paper must not be less than 4 pages in length!
Note: All submitted articles should report original, previously unpublished research results, experimental or theoretical. Articles submitted to the conference should meet these criteria and must not be under consideration for publication elsewhere. We firmly believe that ethical conduct is the most essential virtual of any academic. Hence any act of plagiarism is a totally unacceptable academic misconduct and cannot be tolerated.